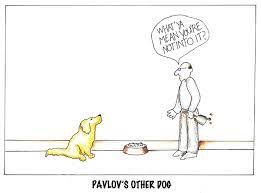 The writer's competitor is no longer other writers. It is social media. The poorly written opinions on Reddit can hook a reader quicker than the first five sentences of your carefully written literary fiction.
But you have an advantage: the reader on social media is willing to overlook the poor grammar and clichés littering the page, but your reader is not. If they pick up your book, they plan to go on an emotional journey. And they expect your work to transcend cliché and tired tropes.
To this end, I have been reading a lot about visceral reactions and Pavlovian responses, which traditionally help the reader relate to the emotional journey of your characters.
There are only so many available to us, for example: surging adrenaline, tightening chest, flushing face, hearing blood rushing, pounding heart, weakening legs, dry mouth, waves of nausea, racing pulse, rapid/shallow breathing, clenching stomach, tightening throat, narrow vision.
In a 80,000 word novel, there are only so many times your protagonist's heart can pound before the reader gets a little bit bored and goes back to checking their twitter feed. Instead, including the following elements in your work can give it the best chance of emotionally satisfying your reader:
Show your characters' internal and external reactions to everything that happens.
Use body language.
Say something that everyone can relate to, then get descriptive.
Replace clichéd visceral reactions with similes.
When your character's visceral responses are unique but relatable, you can draw your reader in and keep them reading to the end.